Jospong Group of Companies is a renowned investment holding firm with one of the most diversified holdings companies in Ghana with operations in other African countries and Asia. The company has business interest in about 14 sectors of the economy with its biggest operations in Waste management, ICT, Automobile, Media and Equipment.
Established in 1995, as a printing press, the company has since its inception experienced phenomenal growth and now has operations covering diverse sectors with over 60 companies with a focus on delivery quality services and products using simple technology at competitive prices. What many are not aware of is the fact that, they are into banking as well and together with two other shareholders are part owners of a major bank in Ghana. OmniBSIC Bank Ghana Limited has three shareholders – the BSIC Group (which owns Sahel Sahara Bank), the Jospong Group (owners of Omni Bank) and the Ghana Amalgamated Trust (Limited), the special purpose vehicle that invested insolvent and well-governed local banks.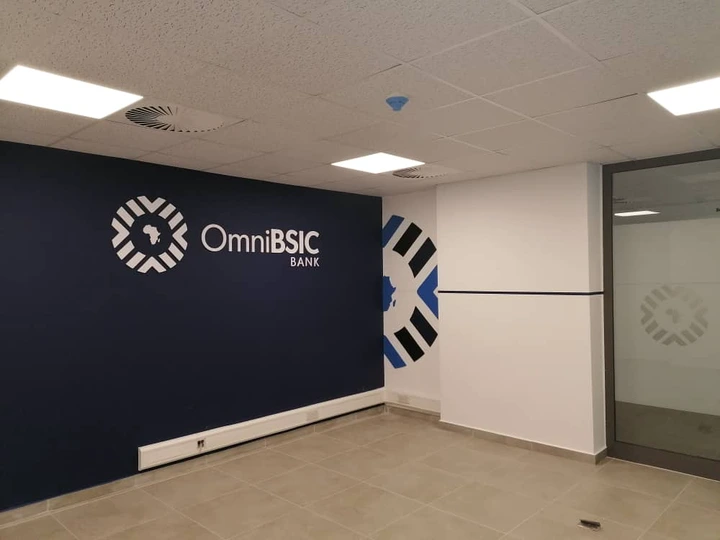 Their successful merger between OmniBank and Sahel Sahara Banks, that was approved by the Bank of Ghana, represents one of Ghana's most successful unions in recent history; a noteworthy milestone. Following Bank of Ghana's approval in 2018, the new OmniBSIC Bank currently operates as a universal bank licensed by Bank of Ghana under the Specialized Deposit-Taking Institutions Act, 2016 (Act 930) with its headquarters at Atlantic Tower, Airport City. The merger that was initially necessitated by the regulator's requirements has developed into a synergy poised at becoming the Number One Bank in customer service in Ghana.
This merger was necessitated by sector reforms introduced by the Bank of Ghana in 2017 aimed at strengthening the Ghana Banking Industry by increasing the minimum capital requirement of banks. Furthermore, since both banks shared similarities in business models, values, banking experience and were both committed to offering unmatched customer service in Ghana's banking industry, the merger between OmniBank and Sahel Sahara Bank was a perfect fit. The bank boasts of over 1,000 employees on its payroll and also makes the OmniBSIC Bank Ghana Limited a medium-sized bank with 46 branches, servicing customers in seven regions nationwide and still expanding.
The Jospong's Group of Companies contribution to the nation's development, as they invest in increasing sectors of the economy is inspiring to many but it must be noted that, for someone like the award winning journalist and anti-corruption fighter like Manasseh Azure, he is of the candid view that, his deals, especially concerning his Zoomlion company, which undoubtedly, is one of the major brands that laid the foundation for all these scale ups has its hands soiled in some bad deals.
He once wrote some few time back to the Church of Pentecost (who had partnered the Jospong Group to embarked on a national sanitation program), in which Dr. Joseph Siaw is also an Elder that, However, in 2013, when I investigated the GYEEDA scandal, and later uncovered many corruption related stories, I became convinced that Elder Joseph Siaw Agyepong and his businesses are a far cry from the what the compromised media in Ghana had all along sought to portray. But I don't hate him as a person. If I find Elder Agyepong drowning, I will risk my life to save him if I can. I love him, but it is the nature of his business with the government of Ghana that I hate. [You might agree with me after watching the investigative documentaries below]
For instance, in 2017, I revealed a series of dubious deals between the Jospong Group and the government of Ghana. A needless waste bins contract signed in 2016 between the Jospong Group and the Local Government Ministry was inflated by at least 148 Million Ghana Cedis. When I went to take a pro-forma invoice from the Jospong Group for bin liners, a piece of bin liner was quoted as 98 pesewas, less than one cedi. But in the contract to the government, a bin liner was to be supplied by Jospong at 15.6 dollars. This is about 70 Ghana cedis. The government was buying 900,000 pieces of the bin liners, so a contract that should have cost less than 1 million Ghana Cedis ended up costing 63 Million Cedis.
One does not need to hate Jospong to dislike this deal. In 2013, the World Bank blacklisted Zoomlion and its sister companies and barred them from bidding for any World Bank-funded project for two years. The World Bank said the ban was imposed following Zoomlion's "acknowledgement of misconduct impacting the World Bank-financed the Emergency Monrovia Urban Sanitation Project in Liberia. The company paid bribes to facilitate contract execution and processing of invoices."
These are not the reasons I have a problem with your partnership with Zoomlion for the sanitation campaign. I liken your partnership with Zoomlion to collaborating with an unrepentant pedophile to fight child sex abuse because that company and its numerous sister companies wield monopoly over almost all government sanitation contracts across the country and their performance leaves much to be desired. The contracts are dubious but their execution is even worse. Here are some of the contracts:
Contract Number One: In 2006, when Zoomlion was formed, there were formidable sanitation companies with heavy equipment. Zoomlion had no single waste truck. It only had a few man-powered tricycles from China. That notwithstanding, the John Agyekum Kufuor government gave Zoomlion the nationwide contract to run the Youth in Sanitation Module under the National Youth Employment Programme (NYEP). It later became the Ghana Youth Employment and Entrepreneurial Development Agency (GYEEDA) and now Youth Employment Agency (YEA).
This YEA contract was Zoomlion's breakthrough and has been running from 2006 till now. Since 2011, the arrangement has been that the government pays Zoomlion 500 cedis per worker every month and Zoomlion pays each worker 100 cedis and keeps 400 cedis as management fees. Zoomlion claims it has 45,000 workers so each month, it is entitled to 18 MILLION GHANA CEDIS while the poor workers who battle with the stench and gutters go home with 100 cedis. They have no transportation allowance, no health insurance and no pension benefit.
My investigation, in 2013, revealed that the company was not distributing the tools it claimed it gave to the workers to sweep. In Damongo in the Northern Region, the situation became so dire that World Vision had to buy tools for the sweepers, while Zoomlion took the management fees.
Contract Number Two: When the sweepers finish sweeping and put the garbage into the communal containers, Zoomlion has another contract with all the assemblies in Ghana to lift the containers to the final disposal sites. This contract is called the Sanitation Improvement Package (SIP). The monies are deducted at source by the District Assemblies Common Fund and paid to Zoomlion. Our investigation has revealed that Zoomlion does not collect the containers when they are full, so across the country, the container sites have become like final disposal sites. [See evidence in Robbing the Assemblies-Part Three on this page].
Contract Number Three: When the refuse is dumped at the final disposal sites, Zoomlion's sister company, Waste Landfills Company Limited, again has contracts with the assemblies to manage the final disposal sites. The municipal and district assemblies pay an average of 320,000 Ghana cedis a year for this management, while the Metropolitan Assemblies pay many millions of cedis.
Contract Number Four: We used to have trained sanitary inspectors who enforced sanitation bylaws of assemblies and ensured cleanliness in our communities. They were called "Nsamansama". A few years ago, they were demonstrating nationwide because, after their training, they were not posted to the assemblies to work. The reason is that Zoomlion has taken over their job. Zoomlion signed a contract with the Ministry of Local Government and Rural Development to recruit high school leavers who failed their exams and could not go to school. They are placed in the assemblies instead of the trained sanitation workers from the nation's schools of hygiene. Each month, the government allocates to them between 400 and 600 cedis. Zoomlion, according to his arrangement, pays them 100 cedis and keeps the rest as management fees.
Contract Number Five: All the assemblies have the MMDAs Fumigation/Disinfestation contract with Zoomlion. According to this contract, Zoomlion is expected to spray drains, markets, public toilets and other open places to prevent the spread of insects and other vectors.
Contract Number Six: Zoomlion again has another contract with the Ministry of Health to do fumigation in the assemblies to stop the spread of mosquitoes. This contract is paid by the National Health Insurance Authority. The Auditor General's latest report has cited Zoomlion for irregularities and asked the company and officials of the NHIA to refund over 400 million cedis.