There has been massive reactions following photos of bad roads which have hit the information superhighways.
The poor state of roads in the country has become a challenge to many Ghanaians. Most of the demonstrations that have hit authorities in the country are as a result of poor roads.
Several rural communities in the country have poor roads and residents there believe the government is refusing to do anything about it.
The late Kwadwo Owusu Afriyie who is also known as Sir John is one of the well-known figures in the country.
He was a leading member of the New Patriotic Party who became the Chief Executive Officer of the Forestry Commission before his death.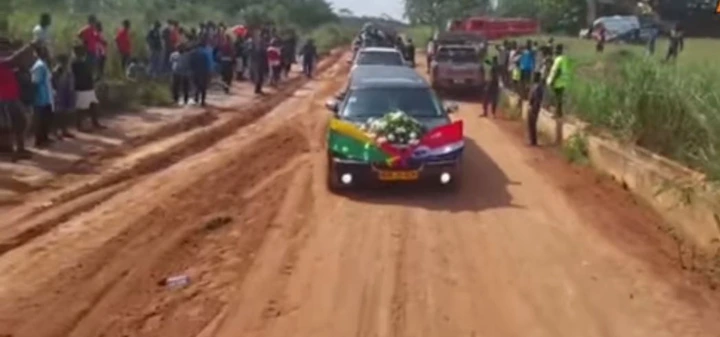 Sir John is loved by members of both the opposition National Democratic Congress (NDC) and the New Patriotic Party (NPP).
As a big figure like Sir John, the general knowledge would have been that his hometown will not lack some basic amenities. But the opposite is the case.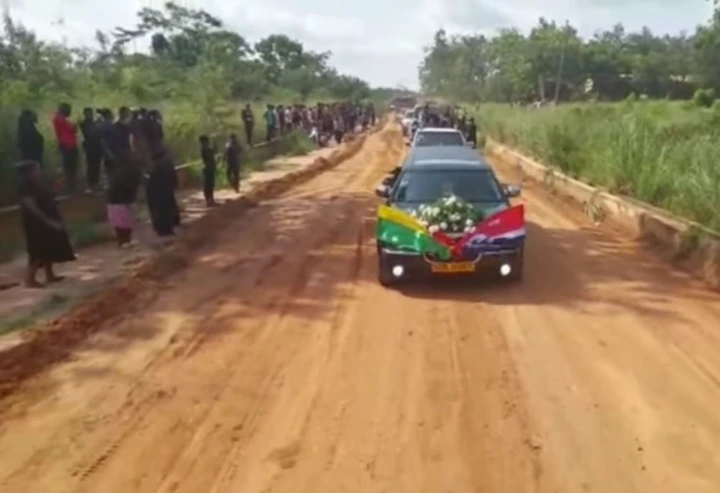 As the mortal remains of the late Sir John was being conveyed to his hometown at Sakora Wonoo in the Kwabre East District of the Ashanti Region, the only challenge that caught the eye of many Ghanaians was the road.
Fleet of vehicles could be seen lined up on an untarred road. The road looks dusty with a little grading works.
It looks like a contractor has been working on the road because the drains have been fixed already. But most Ghanaians have expressed dissatisfaction with the NPP government for failing to fix the road in honor of the late Sir John.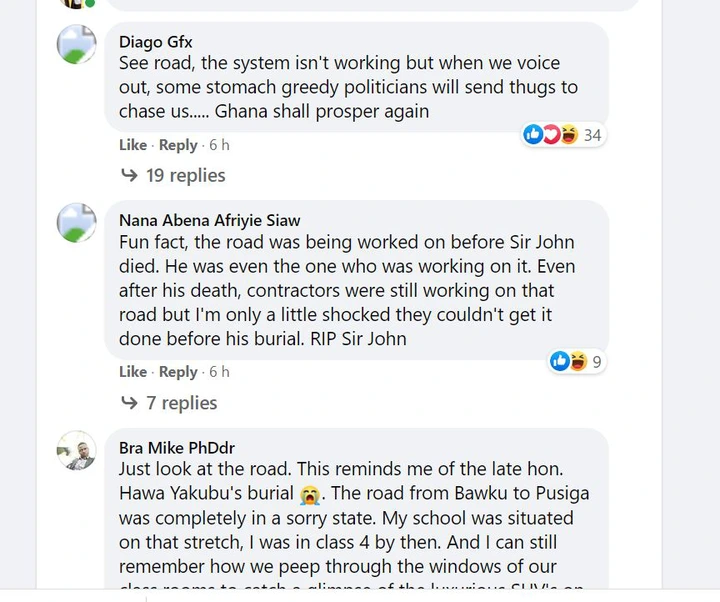 "See the road, the system is not working but when we voice out, some politicians will send thugs to chase us. Ghana shall prosper again". Diago GFX commented on a video of Sir John's remains arrival on Facebook.
Another person who commented also indicated that the road was under construction before the death of Sir John.
"Fun fact, the road was being worked on before Sir John died. He was even the one who was working on it. Even after his death contractors were still working on the road but I'm shocked they could not finish before his burial. Rest in Peace Sir John" Nana Abena Afriyie Siaw also reacted.
"This is a disgrace to Sir John. You could not honor a man who nearly went to prison because of the NPP with a kilometer of good road to his famous village". Nana David Osei also added.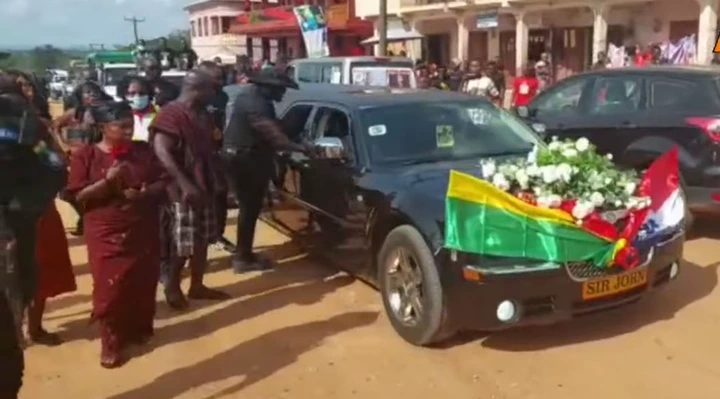 The late final funeral rite of the late Sir John is being marked at the Sakora Wonoo Junior High School Park. May his soul rest in peace