It was chaotic at the funeral grounds when some youth conveyed the corpse of a cyclist onto a motorbike to grant him his final respect. The deceased Kofi Saddat, 34 years old, was due to be buried at his hometown in Koforidua Dwumapo in the Eastern Region.
The corpse was carried out from the casket whence he laid and placed on a motorcycle where some young men believed to be his colleagues take on a display to prove the deceased's love for cycling. The family felt humiliated and stormed the scene to restrain these young men.
They feared the corpse might fall and end in an abominable act. It took the family over thirty minutes to reclaim the body from these young men. Strangely, none of the family members saw them take the body from the casket.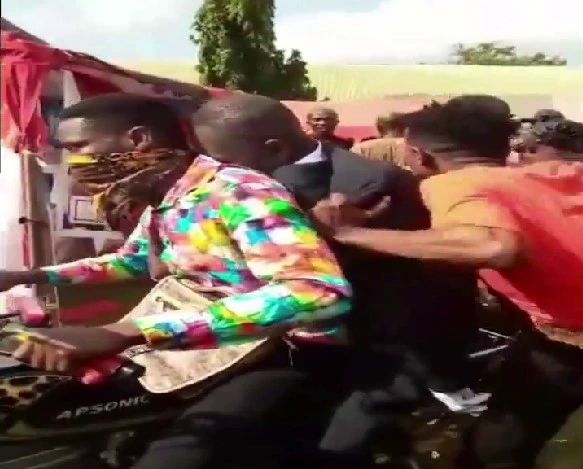 They had ridden the corpse on the motorbike through the inner perimeter of the funeral grounds and attracted a lot of attention. Some family members kept screaming over the fear that the corpse might fall.
One young man sat behind the corpse of Kofi Saddat to restrain it from falling to the ground. It was a terrible and dangerous scene to witness but these young men were not bothered.
According to sources, the late Kofi Saddat was a popular motorcyclist in the community and deserves to be given a final performance before he departs for the afterlife. Though this cannot be considered to be a tradition, his colleagues felt it is a needed ritual to honour his life.
Kofi Saddat according to Angel News died some three weeks ago in a ghastly motor accident. He fell off from a motorbike and knocked his head. Saddat is believed to have died from convulsion due to in-bleeding, however, medical reports are yet to be published to confirm this.
It was too late to save him when they got him to the local hospital for emergent care.