Today, a doctor has shared eight things we do that can damage the kidneys. Aproko Doctor is popularly known on Twitter for his concern about the kidneys. Apart from what he shared today, he always advises that we drink a lot of water to protect them.

Everybody was born with two kidneys, and they perform a lot of functions like removing wastes from the body. However, there are so many things we do that might affect our kidneys negatively. Unfortunately, when the kidneys are damaged, this would lead to the build-up of waste products and fluids in your body, thereby causing weakness, shortness of breath, and several others.

Out of the eight things the doctor shared in his tweet, I am certain that we do one of them. The list is the use of bleaching creams, consuming herbal concoctions, abuse of NSAIDs, smoking cigarettes (Shisha not excluded), excessive consumption of alcohol, and the consumption of too much salt. Check to see the one you do.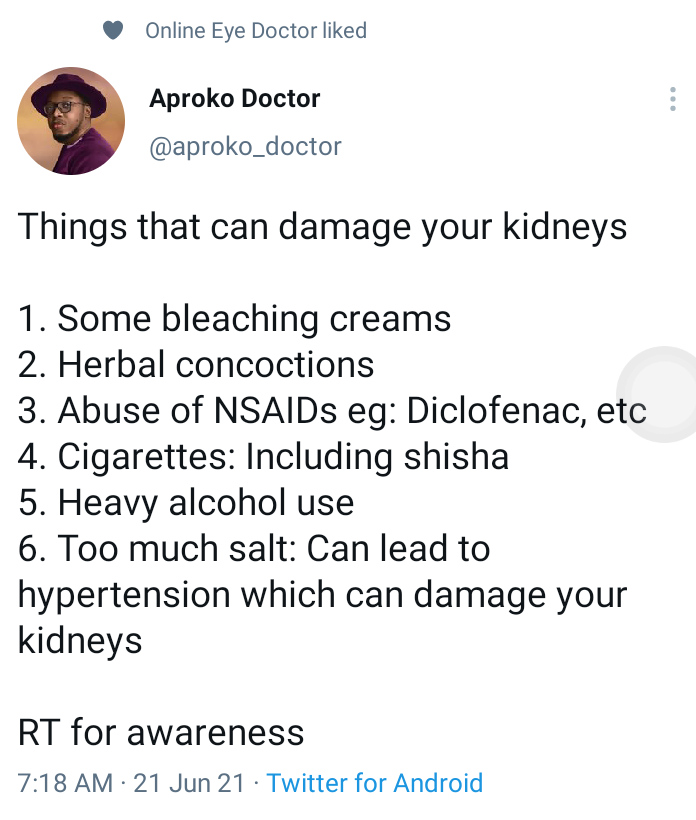 Out of what he listed, I will explain only four. The first is on the use of Bleaching creams which can cause kidney failure because they contain chemical agents like steroids, hydroquinone, and mercury.
Smoking can affect the kidney because it slows the flow of blood, and also adds toxins to your body. On excessive consumption of alcohol, can damage the kidney, because it dehydrates the body, and makes them work overtime.
Lastly, the consumption of too much salt can damage your kidneys, because it increases the amount of sodium in your bloodstream, which would lead to high blood pressure and put strains on the kidneys.
Here are some mixed reactions to his post.