Popular Ghanaian Prophet Atsu Bernard has drawn the attention of Ghanaians to the Supreme Court final judgement which will take place tomorrow as he made it known that he visited heaven and god told him to tell Mahama a message about the Supreme Court judgement.
The Prophet Atsu Bernard Boldly revealed that the Supreme Court final judgement may not come out in the favour of Mahama but the former president and NDC 2020 election flag bearer has a big role to play in order to allow peace reign. According to the revelation from Prophet Atsu Bernard, Mahama should take a quick decision to address the NDC supporters after the Supreme Court announcement.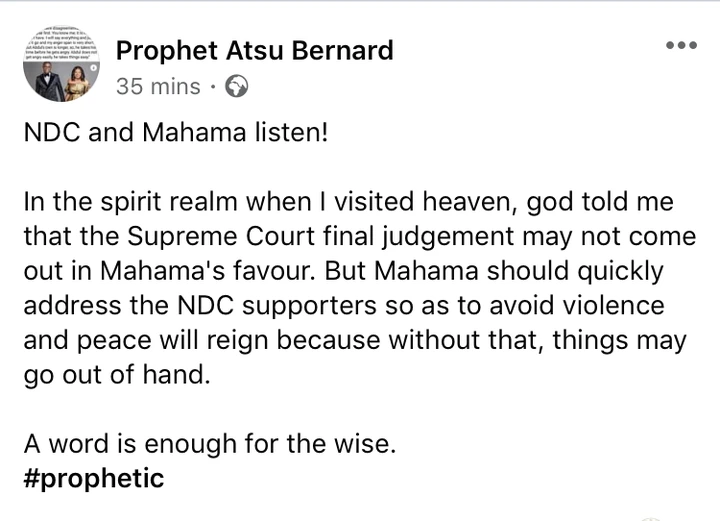 However, the Prophet further explained that Mahama's decision to address the NDC supporters will help in avoid in violence and then peace will reign. And without that, things may go out of hand, he warned.
Meanwhile, social media users has massively reacted to the Prophet revelation while some totally agreed to his message for Mahama but some set of Ghanaians still reject defeat for Mahama.
What's your mood ahead of the ruling? Are you expectant?
Do you think the Supreme Court judgement will favour the NDC And Mahama or not?. Share your opinions.