He Could Not Satisfy Me On Bed;Woman Got Pregnant For Her Husband's Brother.
A married woman who has an affair and became pregnant for her husband's brother in Nasarawa State has explained, in an exclusive interview with the Nation, what led her to having an extra marital affair with her husband's stepbrother.
In the interview with the Nation, the lady simply identified as Angela disclosed that the devil tempted her into allowing her husband's brother to sleep with her when her husband went to Bauchi for police recruitment training.
Angela disclosed that she never intended to cheat on her husband but because they abstained from pre-marital intimacy while they were dating, so she didn't realize her husband wont be able to satisfy her on bed.
She said before her husband went to Bauhci, she didn't get the satisfaction she needed from him. 'I always had to make the first move or dress to tempt him. The few times we had fun, it would be over too quickly and I ende dup not satisfied' –she said.
She mentioned that she realized after they got married that her husband wasn't really her type. Hence, when he travelled to another state, she gave his brother a chance. She said they started making love and she became pregnant for him.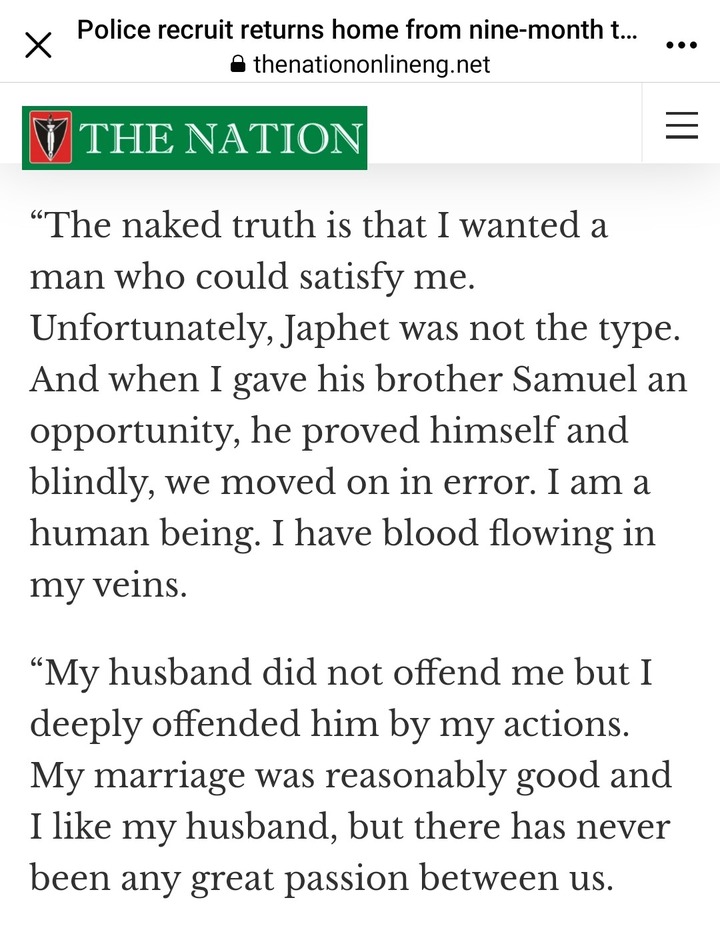 "My husband did not offend me but I deeply offended him by my actions. My marriage was reasonably good and I like my husband, but there ha snever been any great passion between us. Meeting Samuel (husband's brother) in the absence of my husband who was in police training camp was an opportunity to have a romantic connection with s3x." she said.
She added that she did not abort the pregnancy because it could be the only child she has been destined to have. 'I will struggle to train him if God keeps him alive. It is not his fault. I made a mistake but I followed the words of my mother not to abort any pregnancy no matter the situation.' –she said.