Some Ghanaians still don't understand why the President of the land, His Excellency Nana Addo Dankwa Akufo-Addo could blow over GHS 2.8 million on rentals of private jet whilst there are pressing issues in Ghana.
The Member of Parliament for North Tongu Constituency, Hon. Samuel Okudzeto Ablakwa said that even our Presidential jet was in good shape but instead, the President chose to waste taxpayers' money by going for a luxurious foreign private jet for his travel to France, Belgium, and South Africa.
There are bad roads, incomplete infrastructural projects, unemployed graduates, lack of hospitals in some communities among others across the country which this GHS 2.8 million can be used for some of them but the President chose to blow this money on a luxurious private jet.
It was upon this that Tilapia The Cartoonist drew the image below and posted it on Facebook to illustrate how the President was enjoying himself whilst many of his citizens are suffering.
This is what Tilapia The Cartoonist wrote on his official Facebook page:
"The extravagant lifestyle of a borrower!"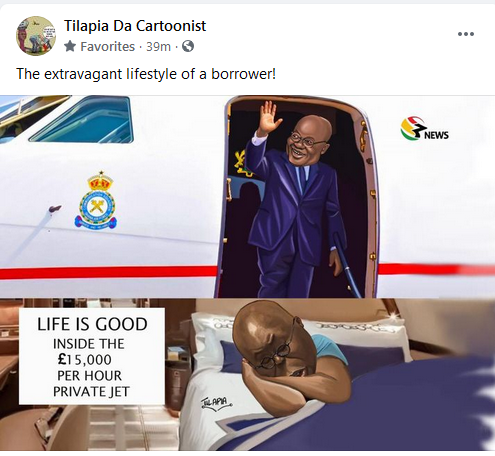 As many Ghanaians can remember, the President came back with £170 million loans from the European Investment Bank (EIB) for the establishment of the Development Bank of Ghana. In view of this, Tilapia was quizzing that why should a borrower be enjoying himself in a £15,000 private jet per hour?
Many Ghanaians on his official Facebook page reacted to this cartoon with these comments: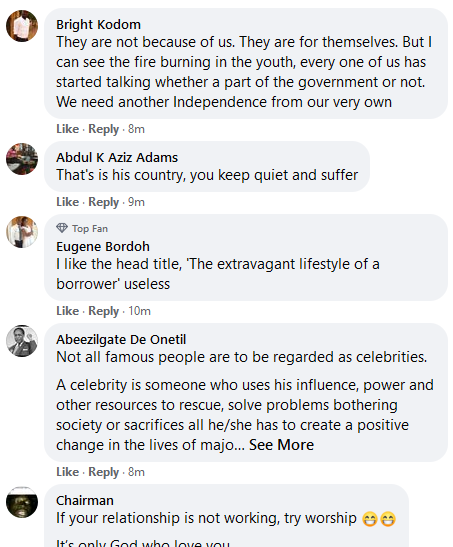 A Facebook user known as Bright Kodom reacted that "They are not because of us. They are for themselves. But I can see the fire burning in the youth, every one of us has started talking whether a part of the government or not. We need another Independence from our very own".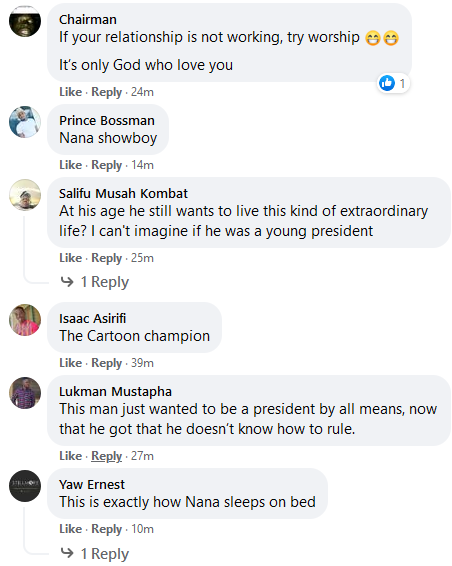 Another Facebook user known as Salifu Musah Kombat also said that "At his age, he still wants to live this kind of extraordinary life? I can't imagine if he was a young president".