Ibrahim Kaaka Mohammed was mobbed on Friday, 25th June 2021 for allegedly making the ruling party, the New Patriotic Party (NPP) unpopular in Ejura. He suffered a head injury in the attack which lead to his death on Saturday, 26th June 2021 dawn. The President of the land, His Excellency Nana Addo Dankwa Akufo-Addo did not utter a single word on this issue meanwhile Kaaka was said to be an NPP member.
The President and his associates were not able to calm the situation in Ejura and that led to a protest for justice for Ibrahim Kaaka on Tuesday, 29th June 2021 leading to two people being shot to death with many injured by the security services deployed to the vicinity to calm down the situation.
As the President console with the police brutality leading to the death of George Floyd, Ghanaians were expecting that President Nana Addo Dankwa Akufo-Addo will at least issue a statement condemning the killing of these people and console the family. Today is Thursday, 1st July 2021 but Ghanaians have not heard of a single word from the President.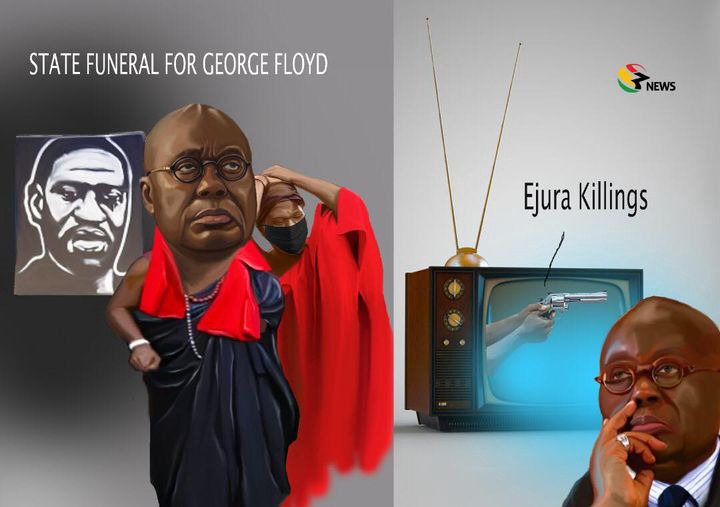 Looking at Tilapia the Cartoonist cartoon above, President Nana Addo Dankwa Akufo-Addo state a funeral for only one man killing in the United State of America but as for the Ejura killings, he has not uttered a single word even on his official social media pages.
This has propelled some Ghanaians to react that the President has no intention of reacting to the killings in Ejura if he had wanted he would have done that a long time ago. It is even too late to send his condolences to the bereaved family. Some also argued that 8 people died during the 2020 President and Parliamentary elections but he did not say anything about it what shows that he will react to this one.
Check out some comments from some Ghanaians below: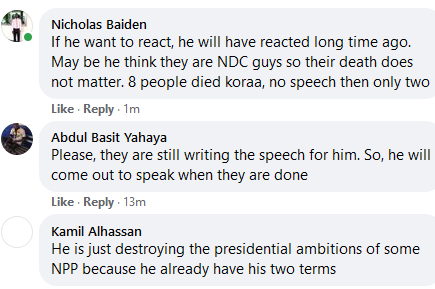 A Facebook user known as Abdul Basit Yahaya reacted that "Please, they are still writing the speech for him. So, he will come out to speak when they are done".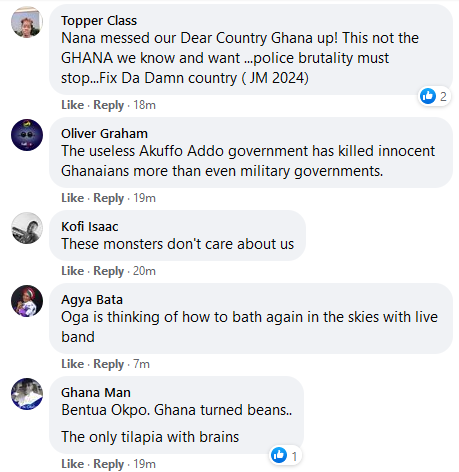 Another Facebook user known as Nicholas Baiden reacted that "If he wants to react, he will have reacted a long time ago. Maybe he thinks they are NDC guys so their death does not matter. 8 people died koraa, no speech then only two".