Two Ghanaian soldiers have been recorded on camera doing something strange to a Ghanaian musician, and many social media users after coming across this video couldn't keep mute over it. Theo Vesachi is a Ghanaian hip-hop and he was the musician the two young soldiers were humiliating in public. If you watch the video carefully, you can see that the guys who recorded the video were standing afar, zooming in and recording the video because they were afraid of the soldiers.
Theo Vesachi was seen wearing a white shirt and a soldier's trousers. The soldiers after coming across him didn't like it so they told him to stand where he is and remove the trousers. There was a friend with the musician who was seen begging the soldiers to forgive his friend but they didn't listen to him.
Theo Vesachi was wasting time removing the trousers so one of the soldiers was seen beating him. The guys who were recording the video were overheard in the video saying that Ghanaian soldiers are not correct. This is because the musician was removing the uniform but they were still beating him.
The musician finally removed the uniform and quickly got into his range rover and went his way. He was lucky that he was wearing boxers. If he was not wearing boxers he would have gone home naked.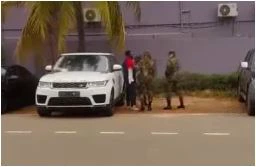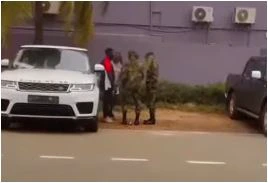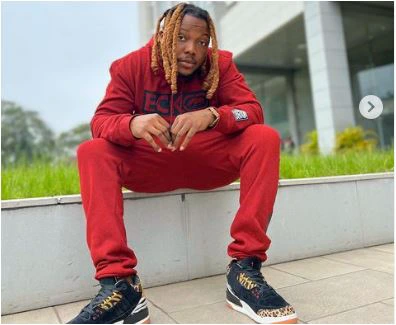 You can also watch the video through the link below: