The Aggressive Youth in Eastern Region has done it again. They have done it again by beating a criminal and leaving him half dead. This is what most Ghanaians are yearning for in this country and they wish armed Robbers are treated as such. It is very painful for an individual to work very hard and armed Robbers will attack that person and within few hours, they will rob him or her and they will be left with nothing.
Angel News, have confirmed the merciless beating that the aggressive youth in Eastern Region mounted on armed Robbers as their attempt to steal in a broad daylight goes wrong. The news proves that, the armed Robbers went to the site with a truck to steal 20 cattle, 50 fowls and pigs. They then cut off the hand of the owner when he wanted to scream for help. The wife of the Owner then blows the alarm and in no time, the Aggressive youth appeared on the scene and arrested their driver as the others run away.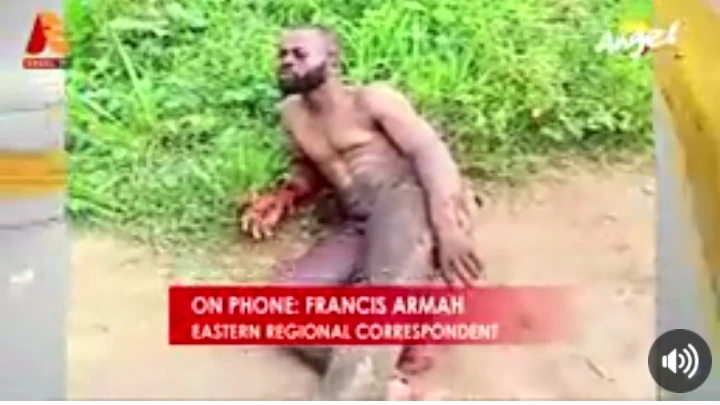 The Aggressive youth beat him mercilessly as they cut his arm likewise how they did to the owner. They went further to set the car ablaze on the spot. They did not even want the police to involve themselves. They beat him very well leaving him half dead before handing him over to the police to take over.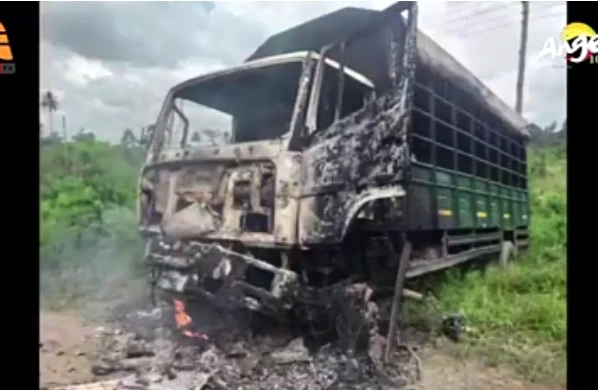 Kwadwo Dickson the news Broadcaster was happy the youth did not kill the armed Robber. He is of the view that, since the armed Robber is still alive, the police can still interogate him and arrest his friends as soon as possible. Many people on social media apluaded the aggressive youth in Eastern Region for maltreating the armed in such a way before handing him to the police.