The Ghana police has sent a serious message to all mobile money vendors after these issues popped up a few hours ago.
The Ghana police are stressing on the fact that mobile money vendors have become a major target in most of the ongoing crimes and need to be cautious.
Mobile money robberies have been recorded a thousand times. This is due to the insecure working environment they find themselves in even though they handle money.
Mobile money has been up and running for sometime now and from the police, they need to protect themselves.
A recent robbery attack on mobile money vendors at Konongo Odumase precisely has forced the Ghana police to send this serious message.
The attack was on two vendors who were shot in cold blood and lost their lives instantly.
This is not the first time we are hearing of such news from the police concerning how the mobile money vendors should operate.
From the Ghana police, they are all supposed to close earlier than usual in order to avoid being susceptible to such attacks from these dangerous robbers.
Earlier this week, the daily guide also published an article on a robbery which involved an innocent mobile money vendor and her 6 years old boy with her at the shop.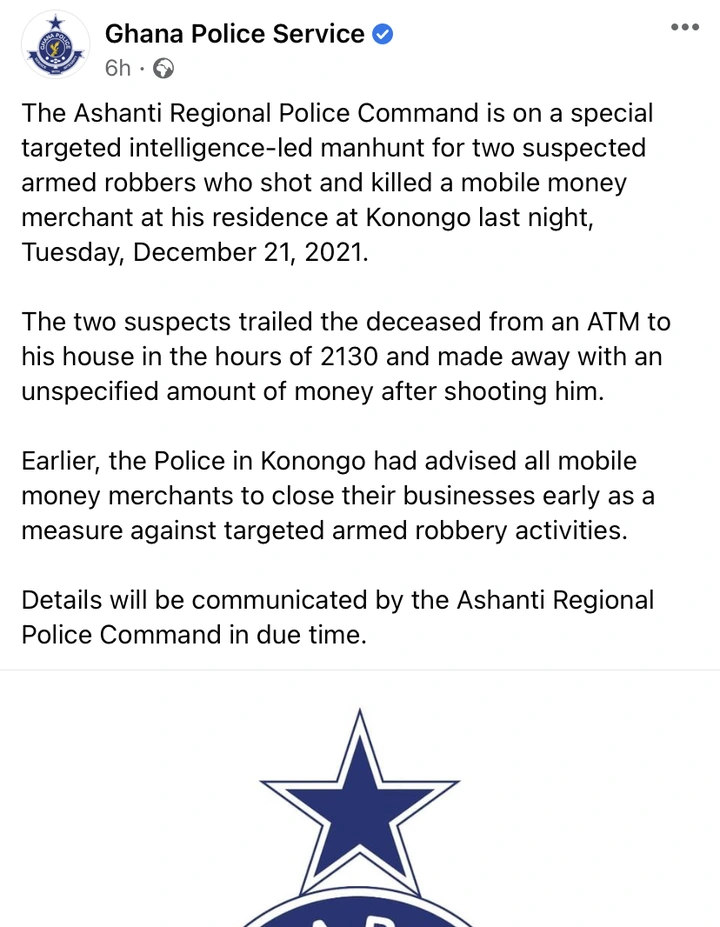 This traumatizing scene of robbery is going to haunt this young boy as well and these are red flags of a possible attack on anyone at anytime.
As a result, the Ghana police demand that for the safety of the vendors, everyone should close earlier before time.
These are also festive times and the desperation in the eyes of many who want to take advantage of the Christmas to the fullest can coerce these robbers into speeding their game.
As a result, vendors should heed to this message and forward it to others to ensure their safety as we cross over to a new year.